Communication Profiles (Translations)
Communication Profiles are used to send translated content and/or market-specific content and offers from the same activity.
​
💬‍
What are Communication Profiles?
With the help of Communication Profiles, you have the flexibility to send market-specific content and offers within the same activity. This would also be the way to add translations. That is why, most commonly, a Communication Profile would segment a players' country of registration. ‌
To clarify, the segment in your activity is still your target audience but with the help of Communication Profiles, you add a filter on top. This filter makes sure that the correct version of the actions are sent to any players that are targeted through the specified profile. ‌
To sum it up, you would use Communication Profiles to make you more efficient and save you time from having to set up multiple activities to achieve the same result.
​
💡‍
When to use it?
There are many different scenarios where you'd like, or even need, to be market-specific with your content and offers.
We have listed a few of these different scenarios:
​

💬‍

Translations

Offer the relevant language for your players

​

👮‍♀‍

Compliance

Honour regulatory compliance requirements for specific markets

​

🎭‍

Relevance

Adjust offers and content for the best possible relevance to the different markets

​

🤑‍

Cost-saving

Adjust offers for high-risk markets instead of excluding them

​

🚦‍

Availability

Give alternative offers for markets with limited availability
​
🌐‍
Where can it be used?
Communication Profiles can be used with
all action types
within an activity.
​
🤷‍♂‍
How is it used?
Making use of Communication Profiles in your activities is straight forward, fast, and easy.
Below we have two
visual examples
of how smooth and easy it is to implement the Communication Profiles to your actions.
Email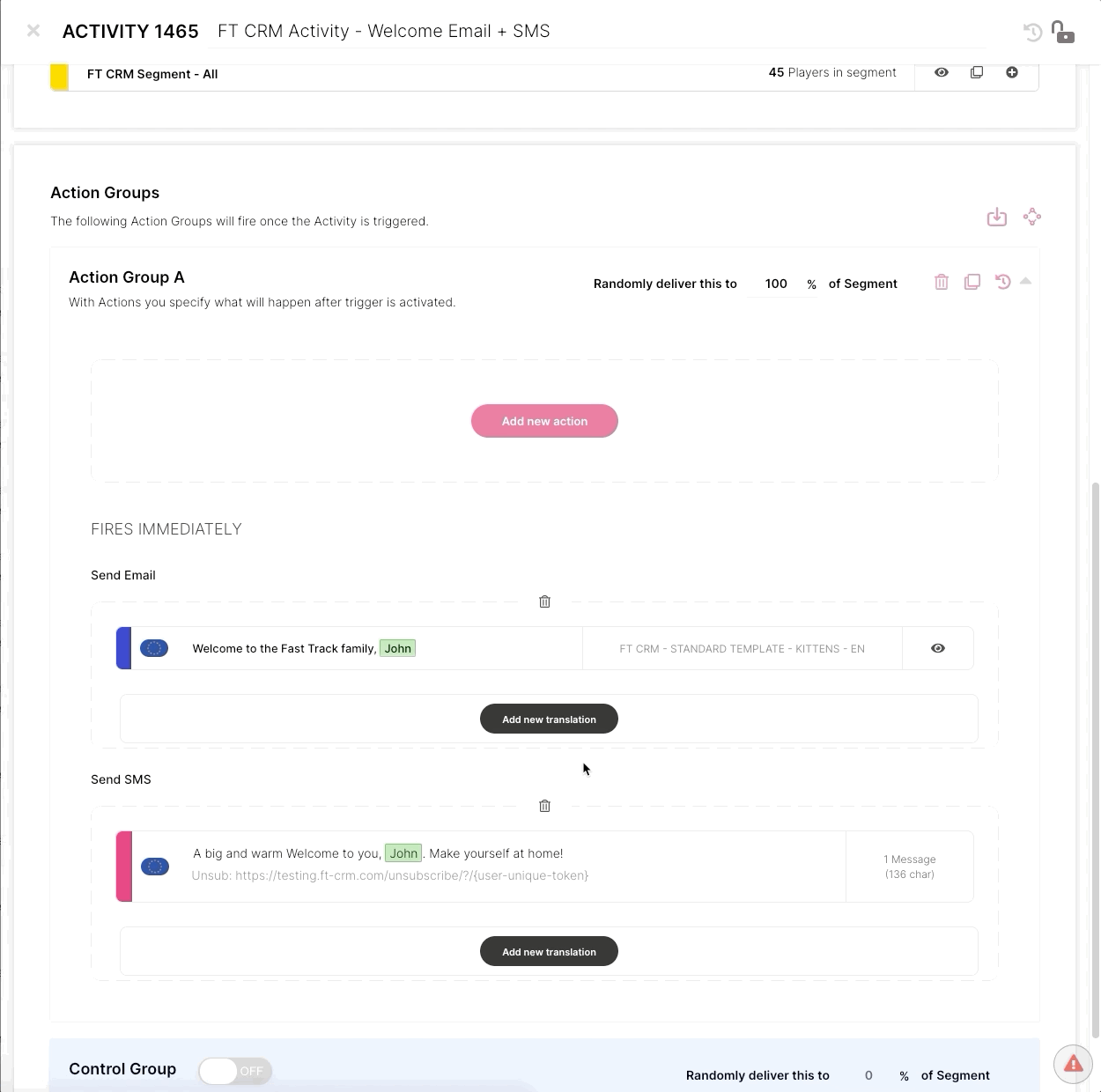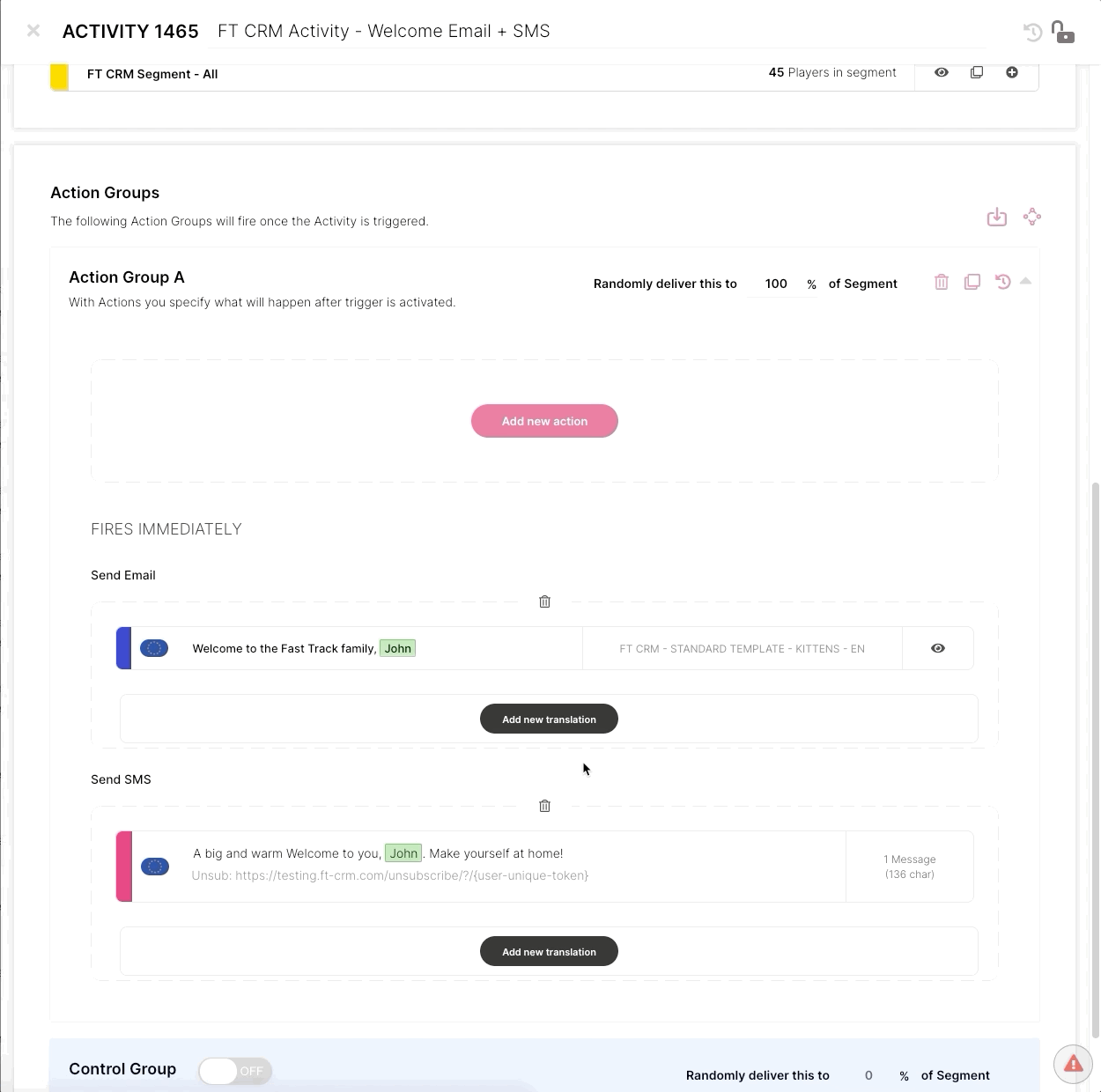 SMS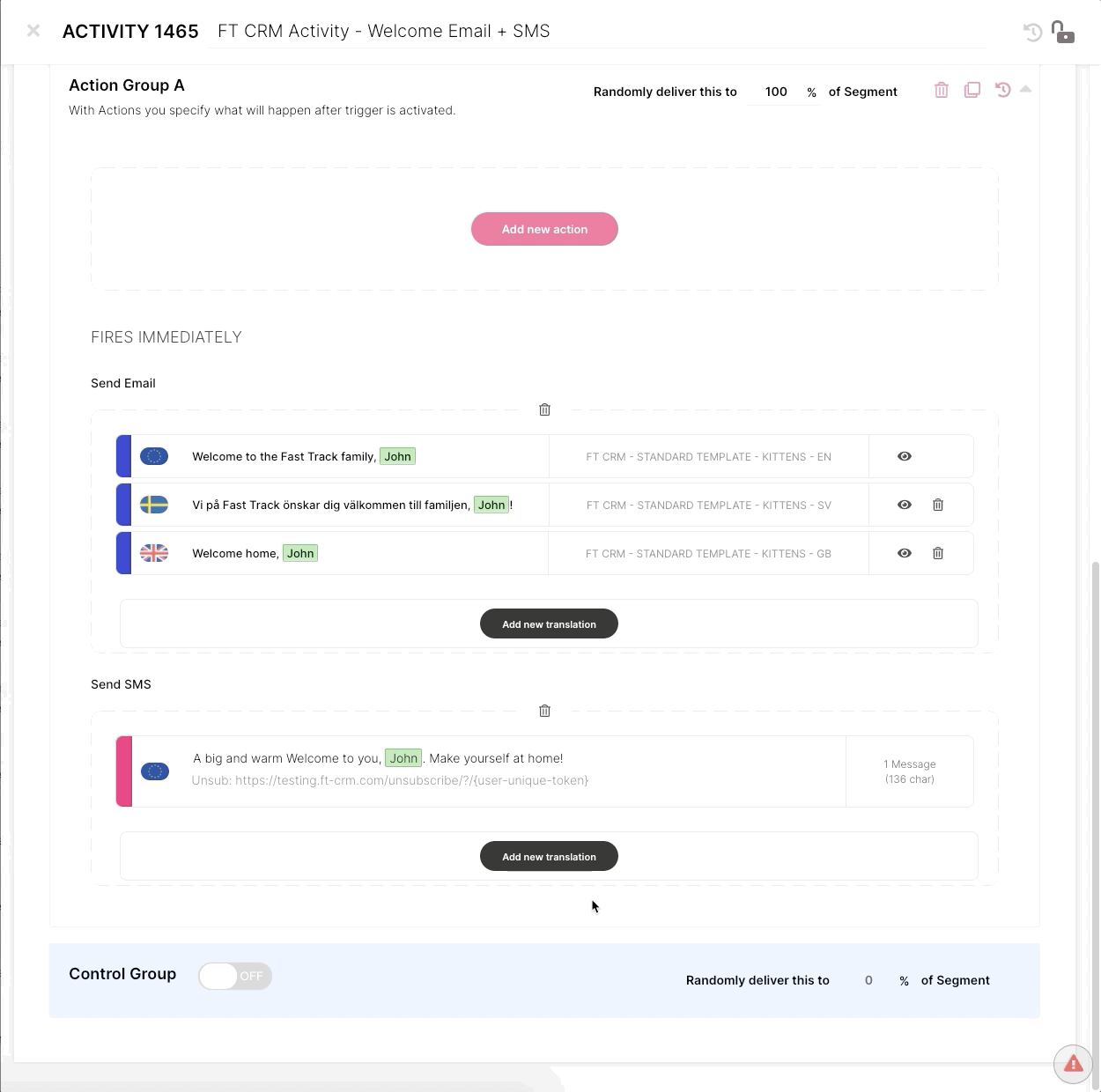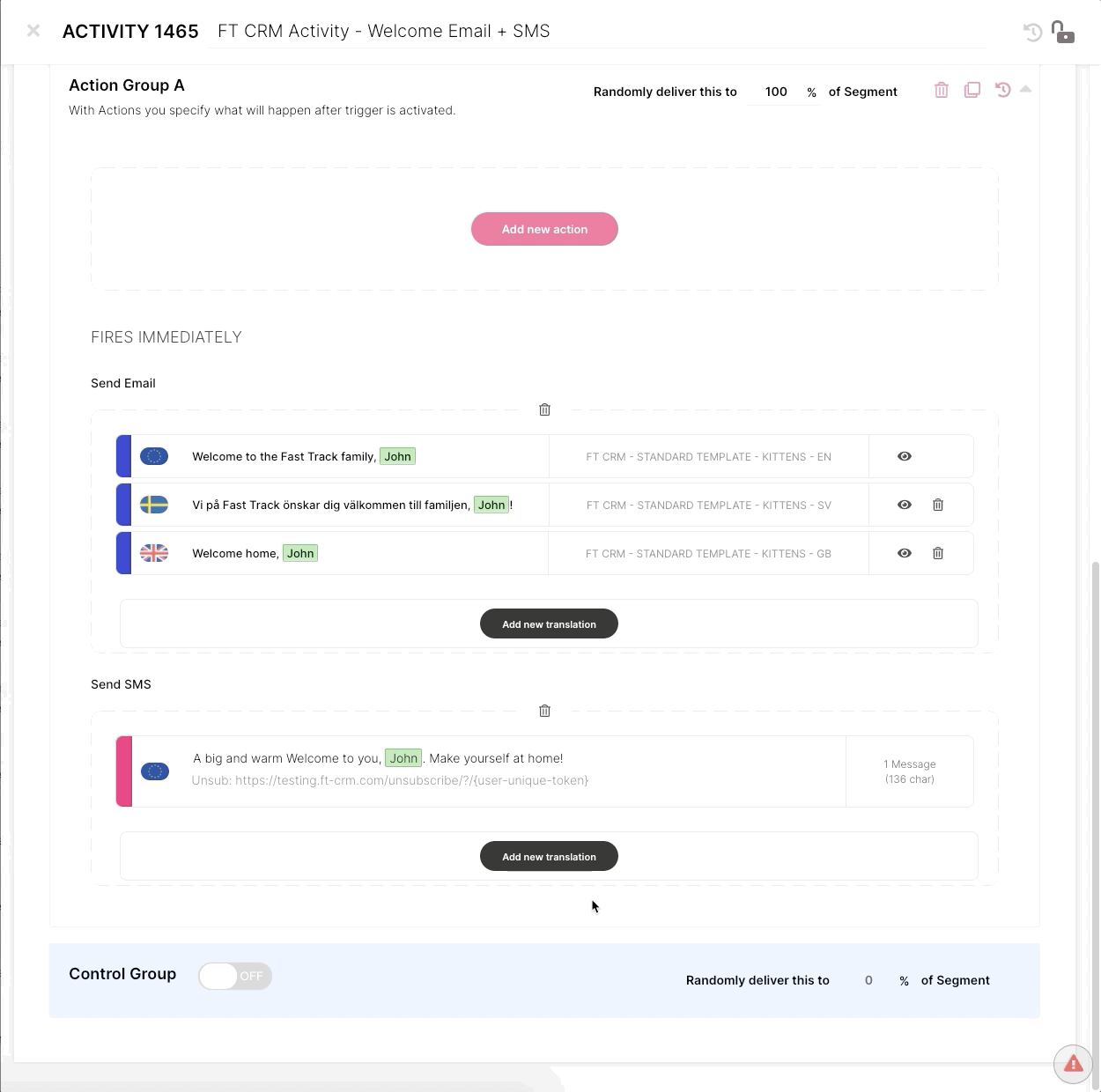 📆
Action Scheduling & Translations
Action Scheduling is set-up and managed in the
default action
. Any translations that are added to that action are subject to the action scheduling of the default action.
​
🏴‍☠‍
How to set up Communication Profiles
You only need to
set up a Communication Profile once
. After it has been set up it can be found and used in any activity going forward.
Below we show and talk you through, step by step, on how to set up a Communication Profile. In this example, we will be setting up a Profile for the UK market.
1.
Create a Segment
on the segments page.
2.
Enter Communication Profiles
from the Settings menu.
3. Click on
Add Communication Profile.
4. Enter
Media
and upload an image of the UK flag
🇬‍🇧‍
in a suitable folder. Or if it's already in the Media library you simply select the desired image. 5. In the "
SMS Stop Text
" field
you have the option to enter the stop text
that will be added automatically to every SMS being sent for this market. 6. In the "
Unsubscribe Base URL
" field
you have the option to enter a market-specific unsubscribe link for emails
.
​
🧠‍
Note:
The "SMS Stop Text" and "Unsubscribe Base URL" fields may be left empty if you want to use the defaulted texts/links.
7. If you wish to
enable the Communication Profile
straight away you may tick the enabled box. 8.
Click save
and ta-da
🎉‍
you've now created your new Communication Profile
. If it's enabled, you'll now also have it as an available option when adding translations to your activities.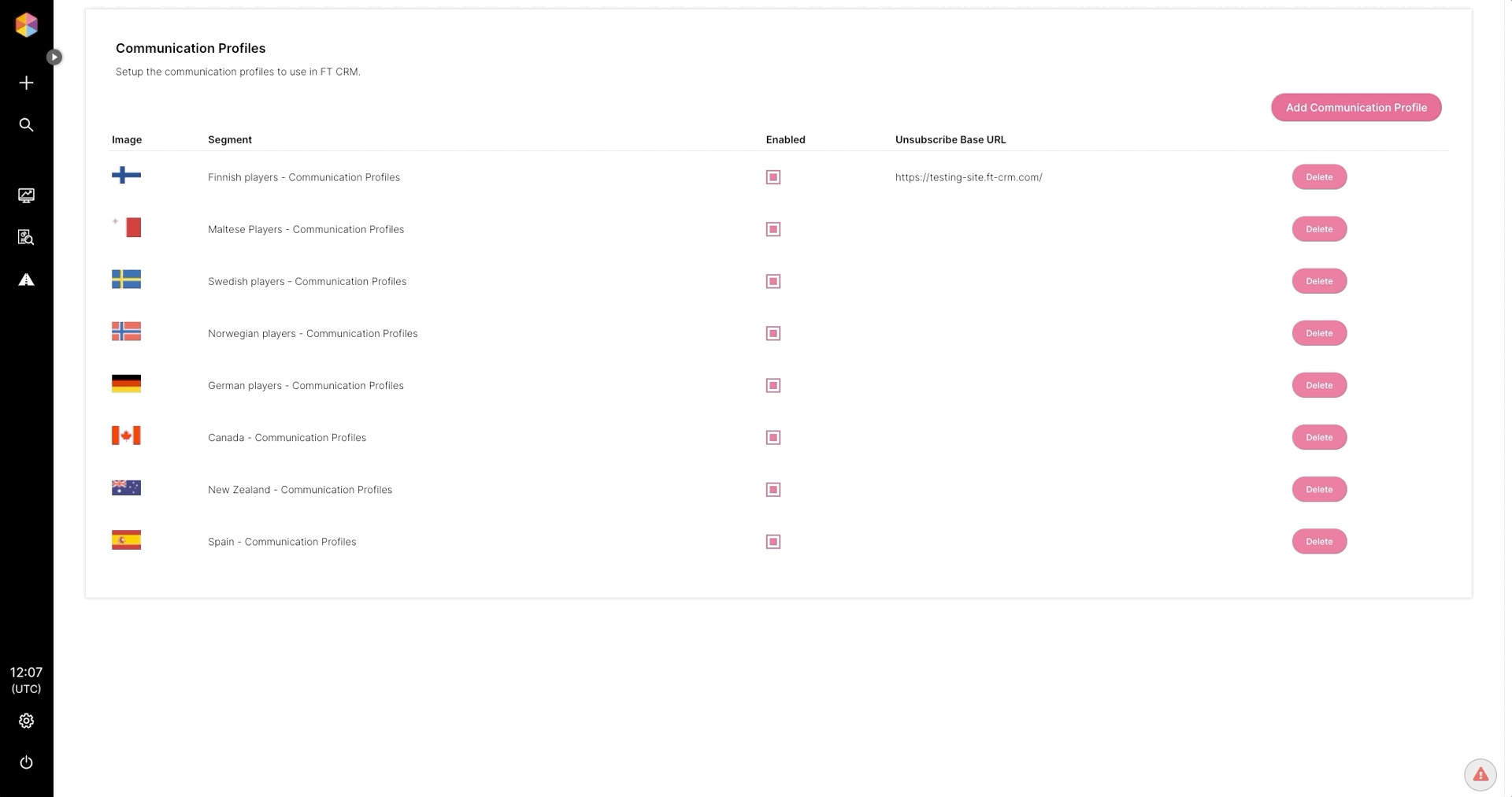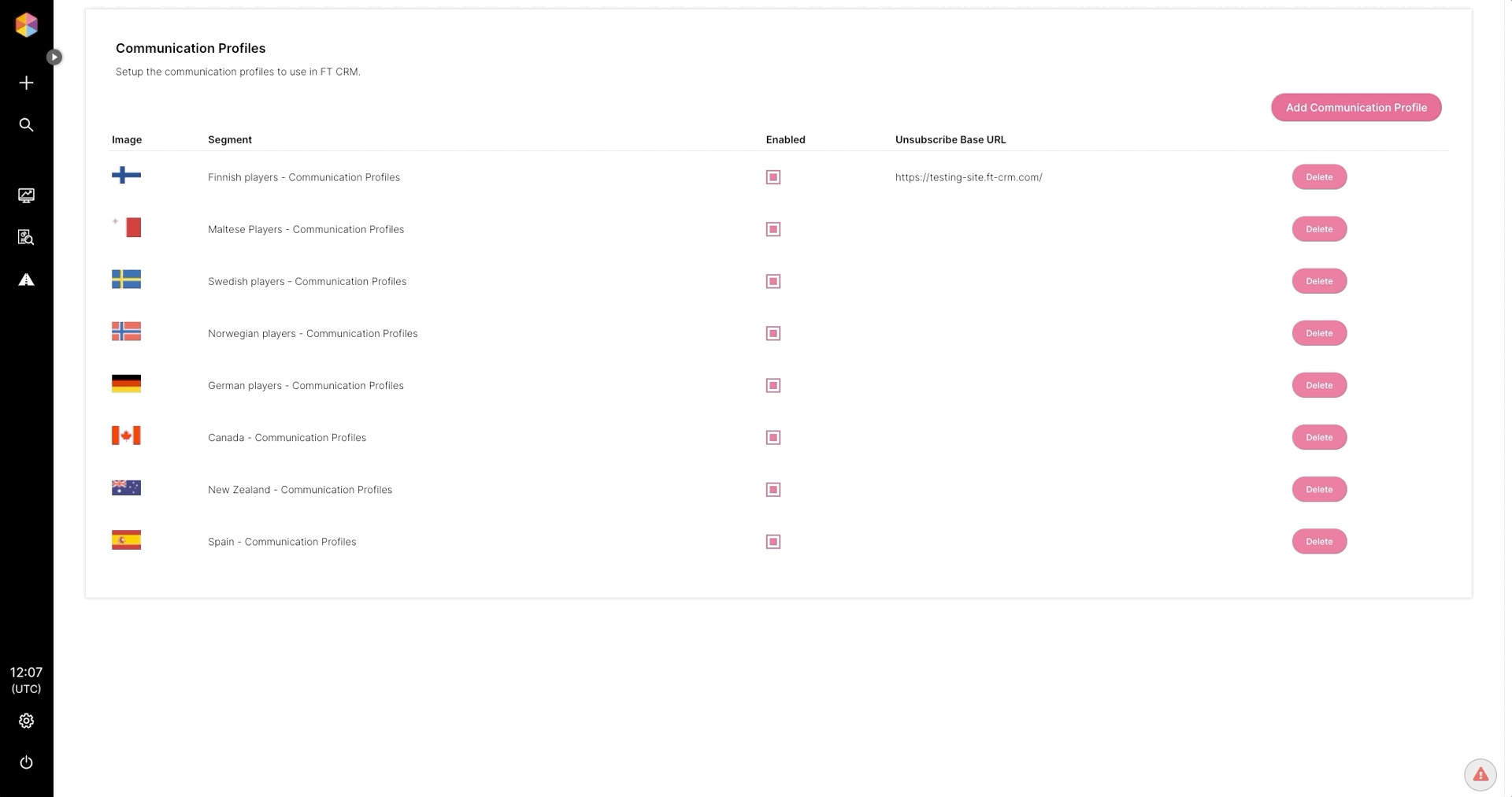 ​
🧙‍♂‍
Tip:
It's always advised that someone else checks the set up before enabling and making a new communication profile available for use.