Testing an Activity
Once you have a Test User set-up, you can go ahead and test the actions of a desired activity or lifecycle. Here's a handy tutorial to help you get started.
👱

Test Users
Before you can get started testing an activity, you first need to have Test Users set-up. Check out our
Setting Up A Test User
tutorial
here
.
✅‍ Activity Testing
Activity testing is the process of sending actions, action groups, or translations from an activity or lifecycle, to a test user, to simulate the player experience.
🧪 Testing An Activity
Once you have your Test User(s) set up, we can start testing activities and lifecycles.
Step 1
: Open the activity or Lifecycle activity you wish to test the action/communication for
Step 2
: Select the action group, action or translation to be tested by selecting the
Activity Testing
icon
Choose from an entire
Action Group:




Or an individual
Translation
:


Step 3
: In the
Activity Testing
panel, select the
Test User(s)
you wish to send the communication to and click
Next
.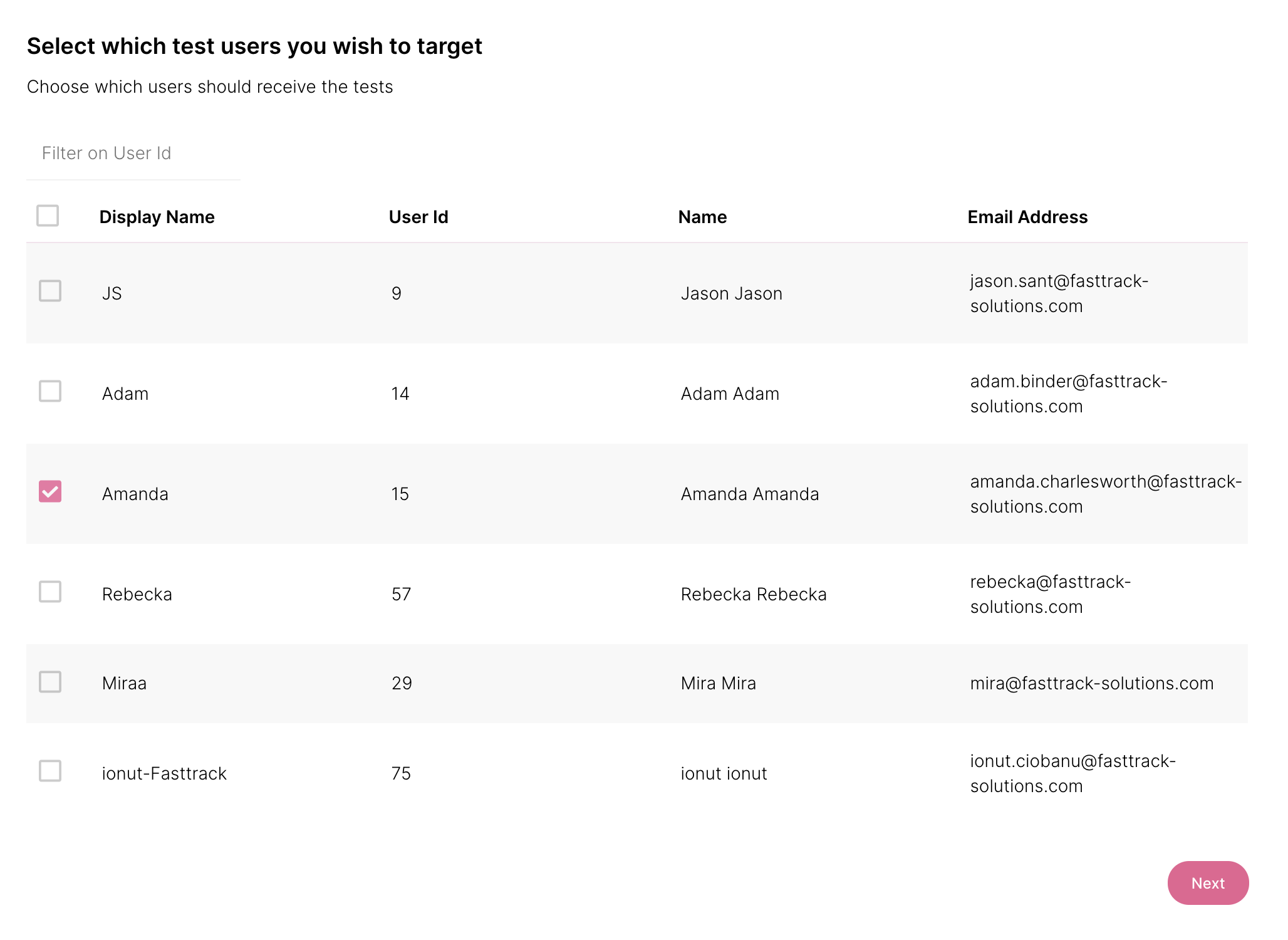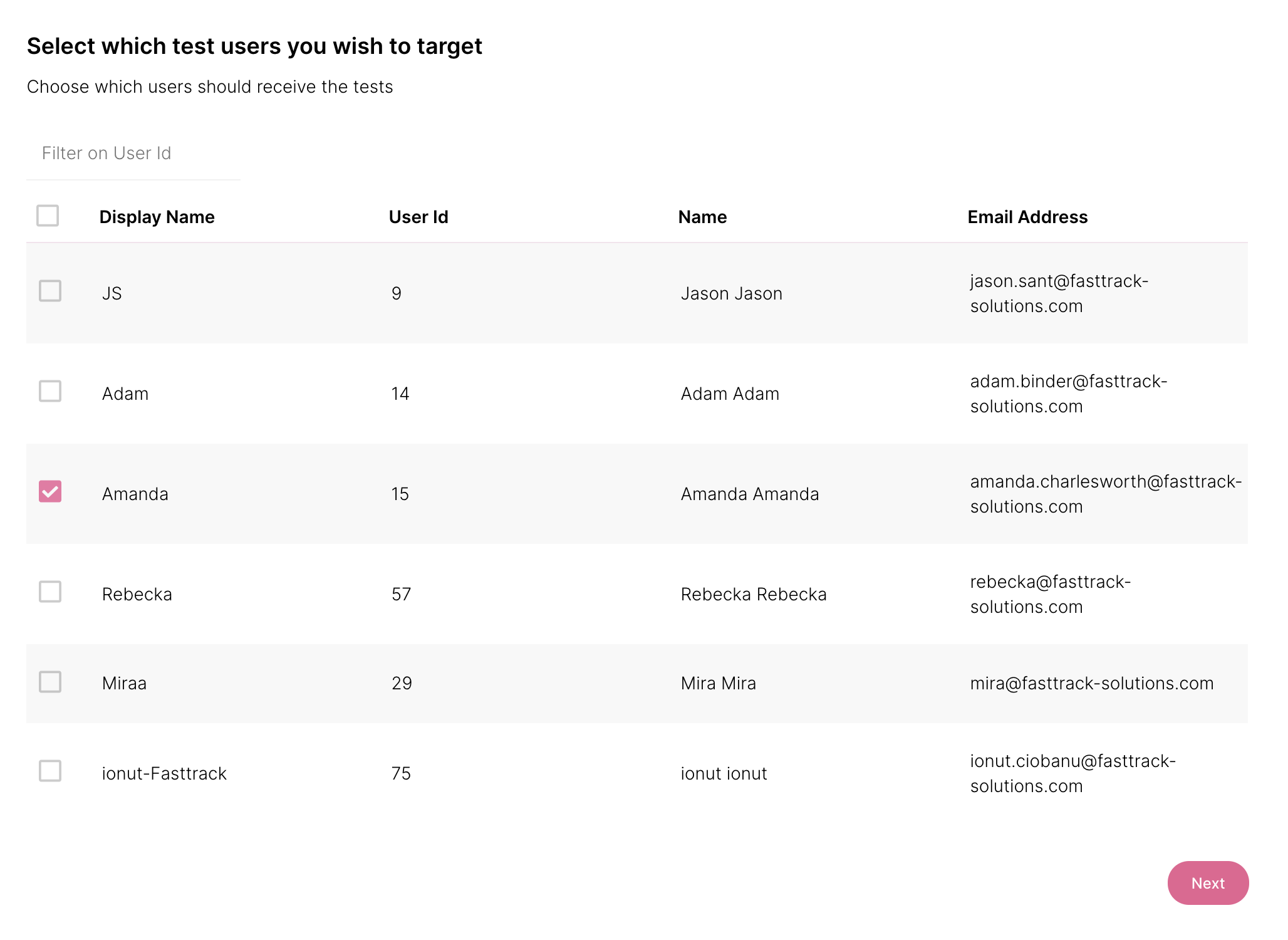 Step 4
: If your selected activity includes more than one communication profile, you will be asked to select which
communication profiles
should be sent to the
Test User(s)
.


Step 5
: If your selected activity is using
variables that relate to the trigger
, you will have some additional
advanced options
.
If your activity does not include any variables related to the trigger, then you will not be presented with this option and can skip to
Step 6
.
You can choose to
override the sample trigger event values
according to your activity trigger to test how the information in the variable will be displayed.
Example
: You have an activity that will trigger an
Email
to notify players when they have an
Approved Withdrawal.
The Email action uses the trigger variable
#amount#
to inform the player that they have an approved withdrawal of X amount.
Whilst testing the Email action you have the option to override the sample values for #amount# with a value of your choice. This allows you to test how the information will display in the Email.
The sample value for #amount# is '
12.3
'.
We can change this to '
50
'.
Therefore the test Email sent to the Test User will display €50 instead of 12.3.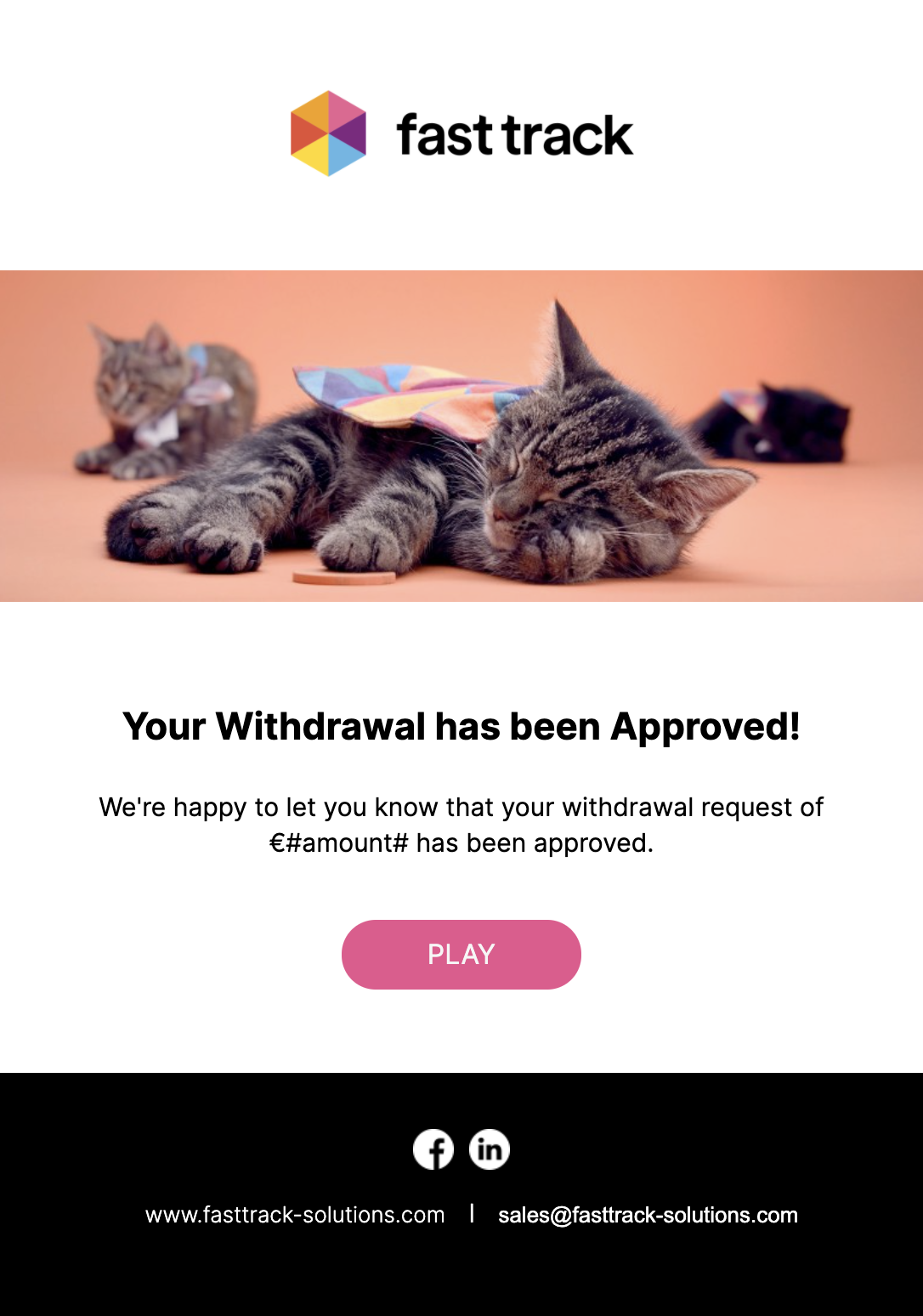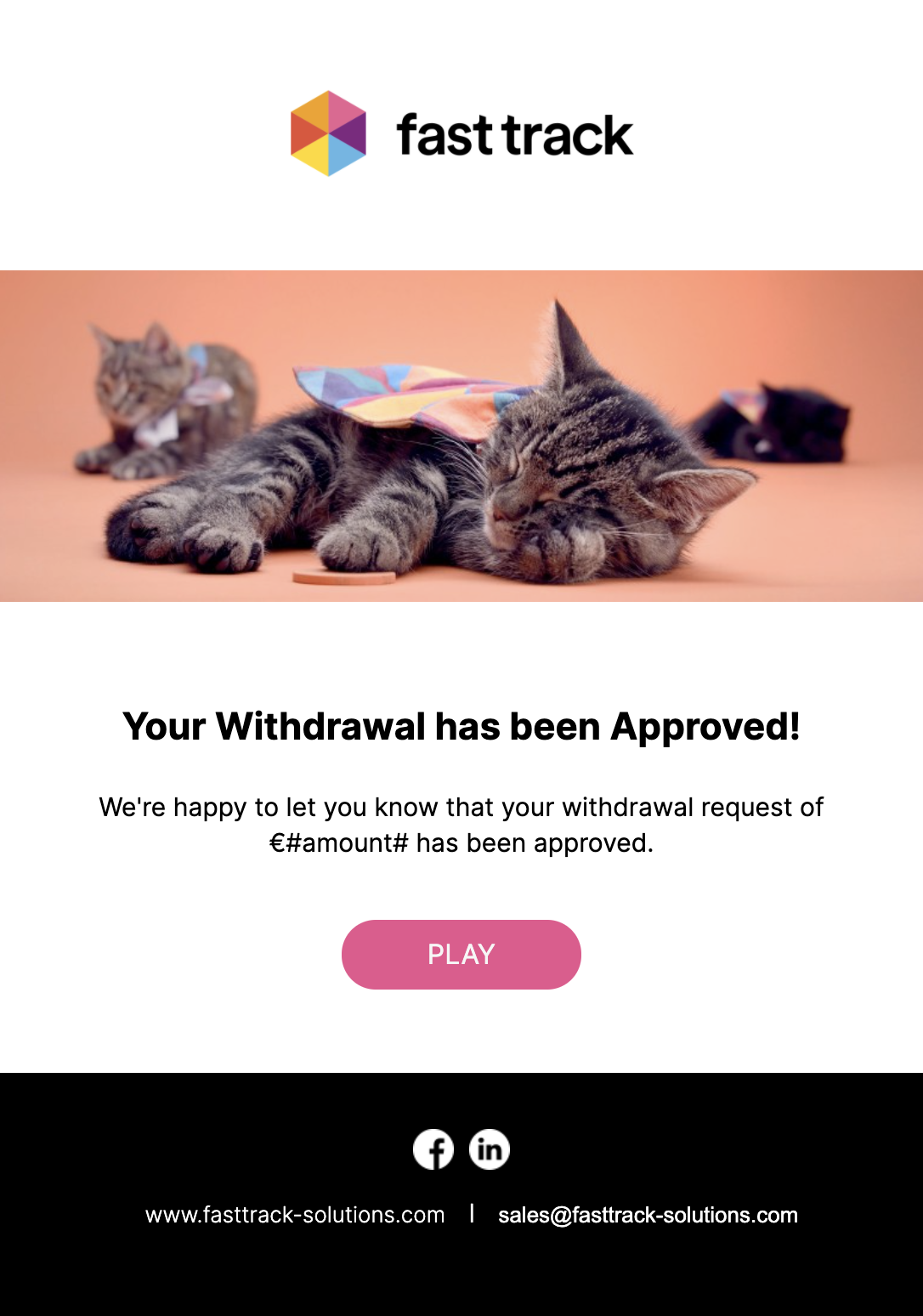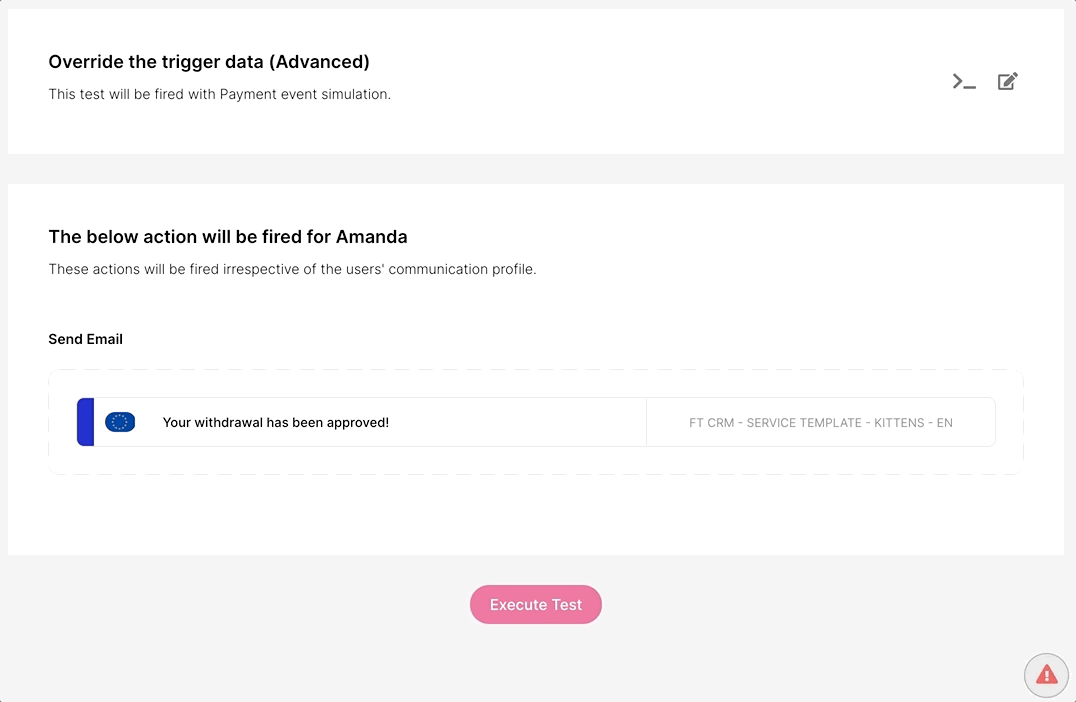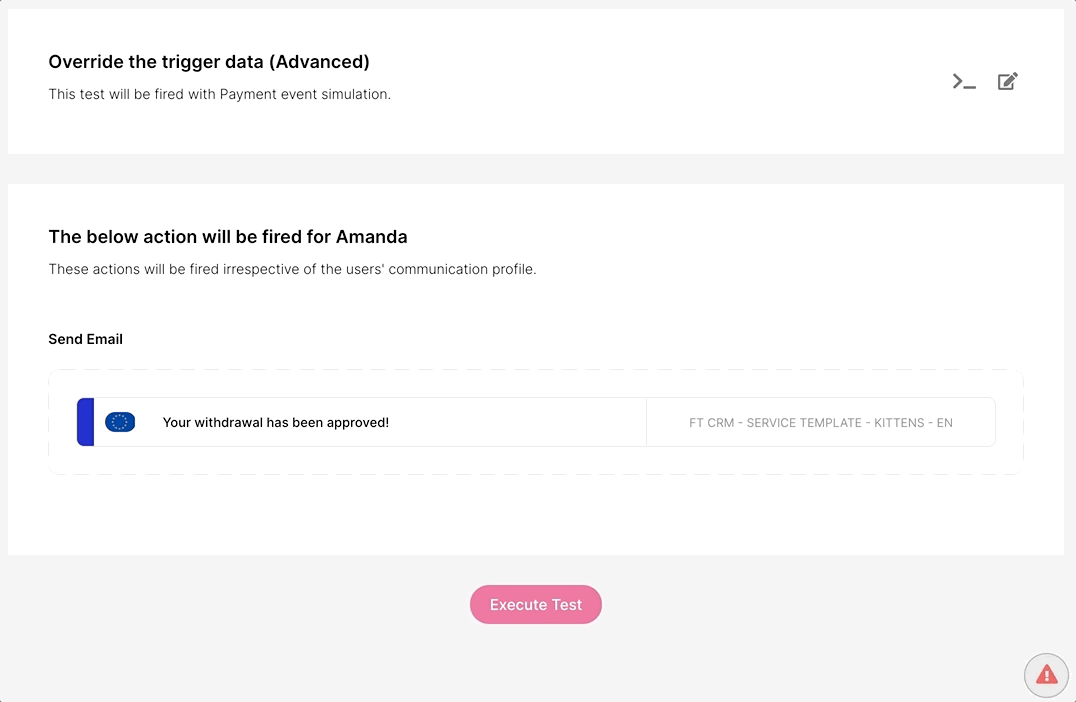 Step 6
:
Review the summary
of what (action) is going to be triggered and to whom (test user) and
execute
. Your test user should now receive the selected actions.
Here's a full run-through of all the steps above: