Define Structure
In this step you can manage Lifecycle Events as well as Split Audiences within Lifecycle Events.
There are two phases to building your lifecycle. We start by defining the structure; the events and segmentation.


🎫

Events
If you have selected a template, you'll find some pre-defined events already inside the lifecycle.
Each row inside the lifecycle version represents an event. An event is comprised of its own trigger, segment, split audience, and activity slot.
In define structure mode, we are focused on the trigger, segment, and split audience. We will take care of the activity slot later in define activities.


Event Example: Failed Deposit €0 to €19.99
In the image below, you can see the name, description, trigger, and segment that has been set up for this lifecycle event.
It is possible to edit the name and description.
​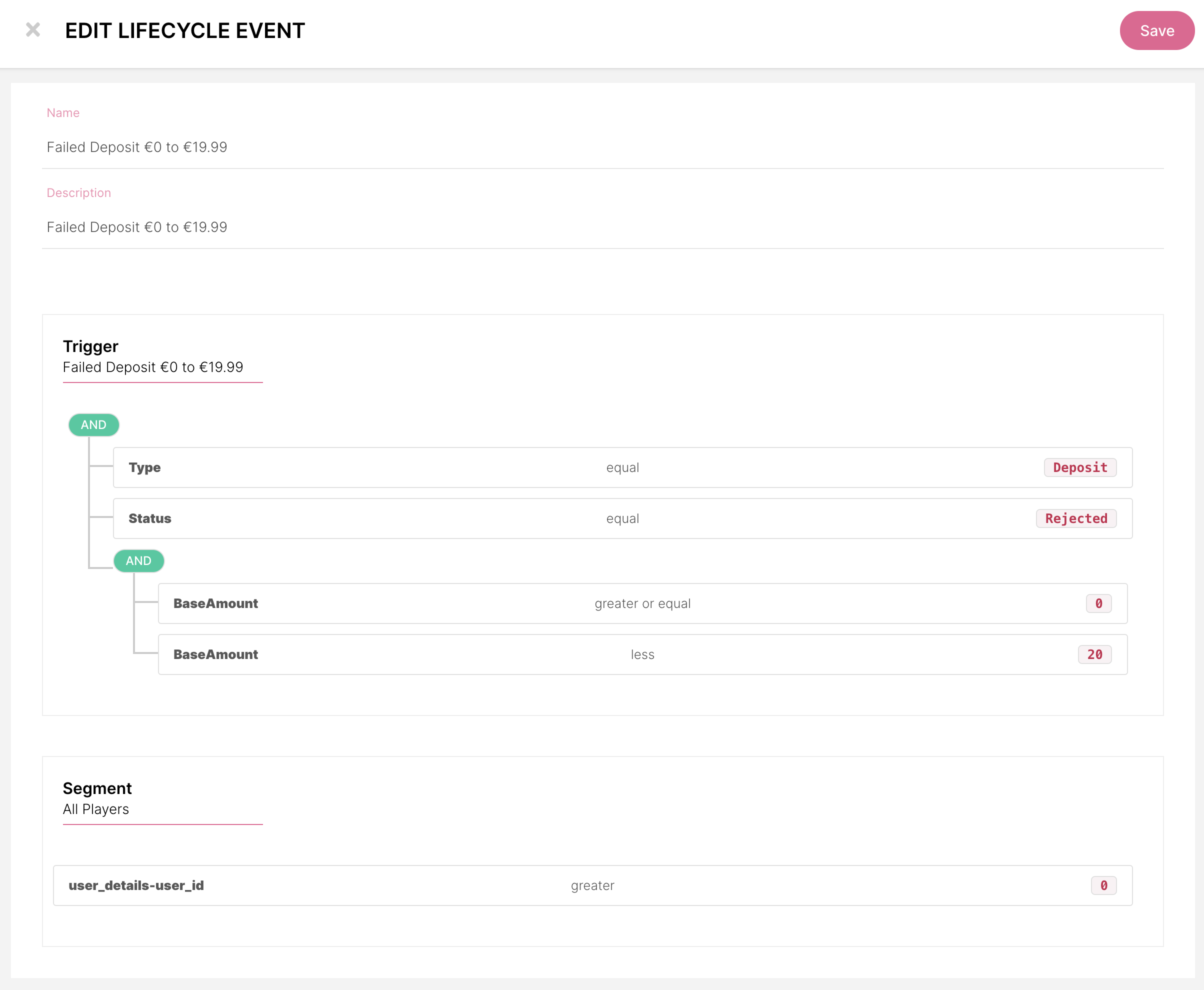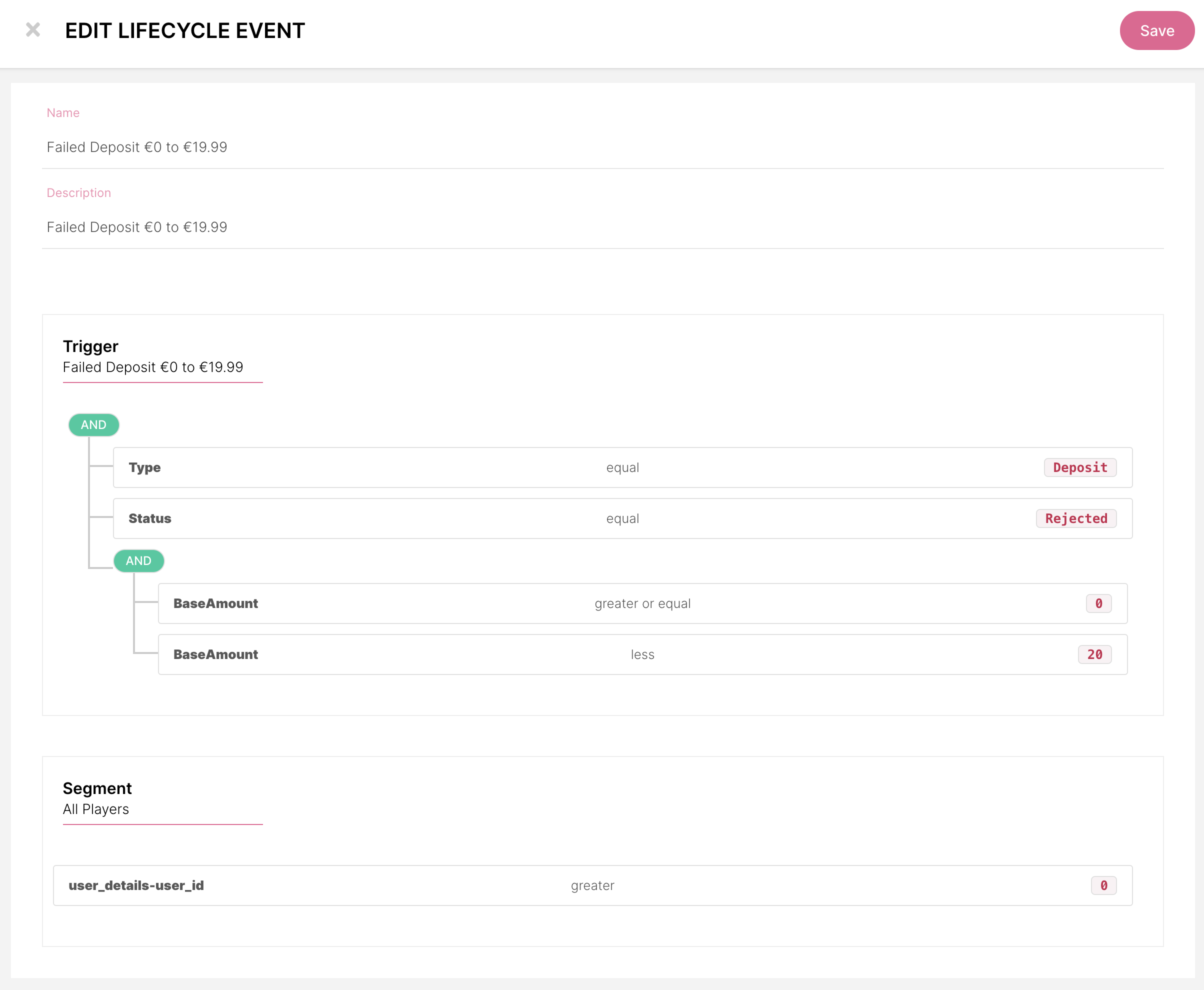 Events: An event can be a During Event or an Ending Event.
During Events occur during the players journey through the lifecycle
Ending Events are the events that define when or what will make a player exit the lifecycle
​
🎀

Add new event
Easily add new events or delete those you don't need to make the lifecycle just as you want it. Even drag and drop events to appear in the order you want.
Add new events to suit your needs from the toolkit. Each new event can be set as a during event or ending event.
Select Show All from the toolkit and you can select an existing event from any of the lifecycle templates. Or you can choose Custom Event to build your own.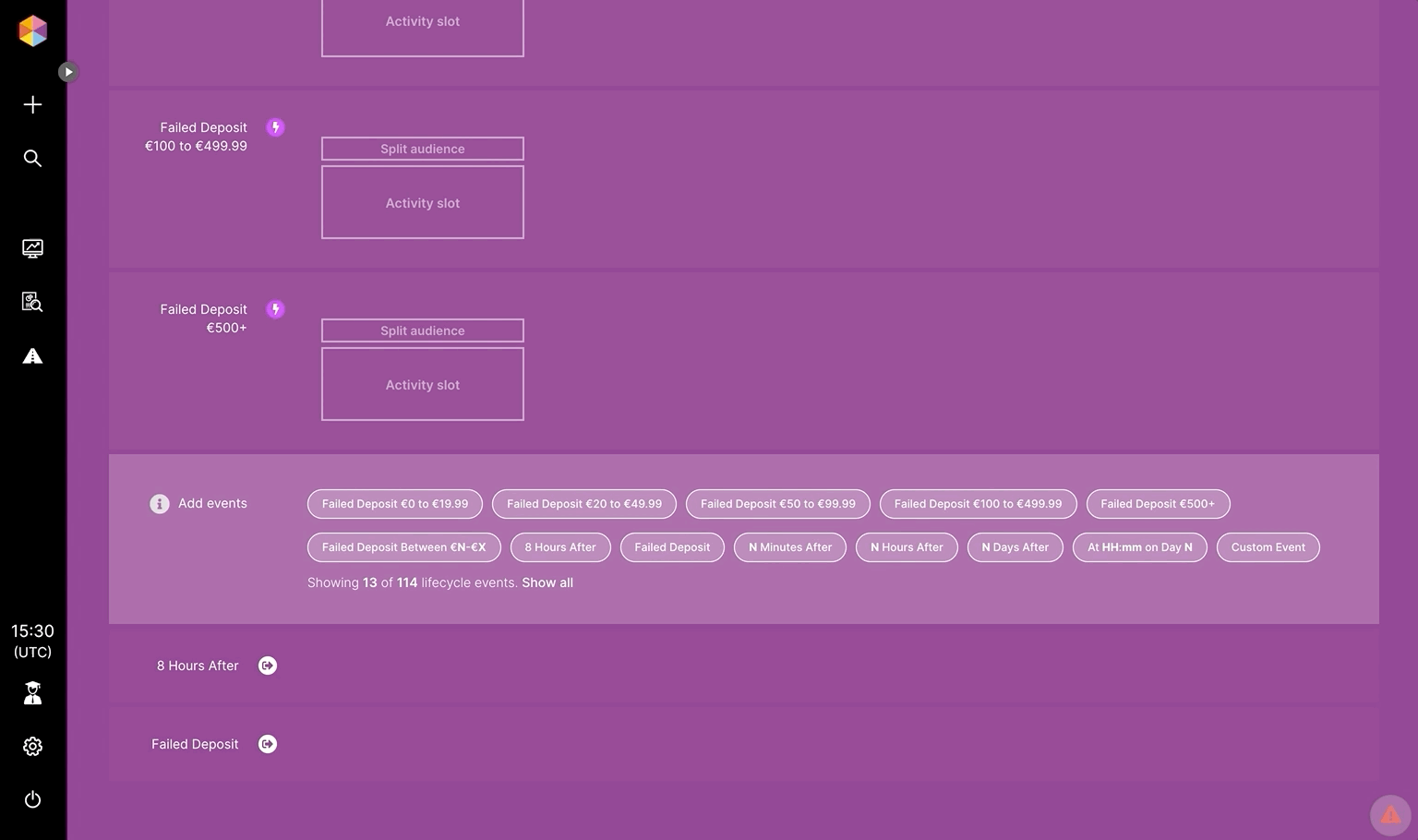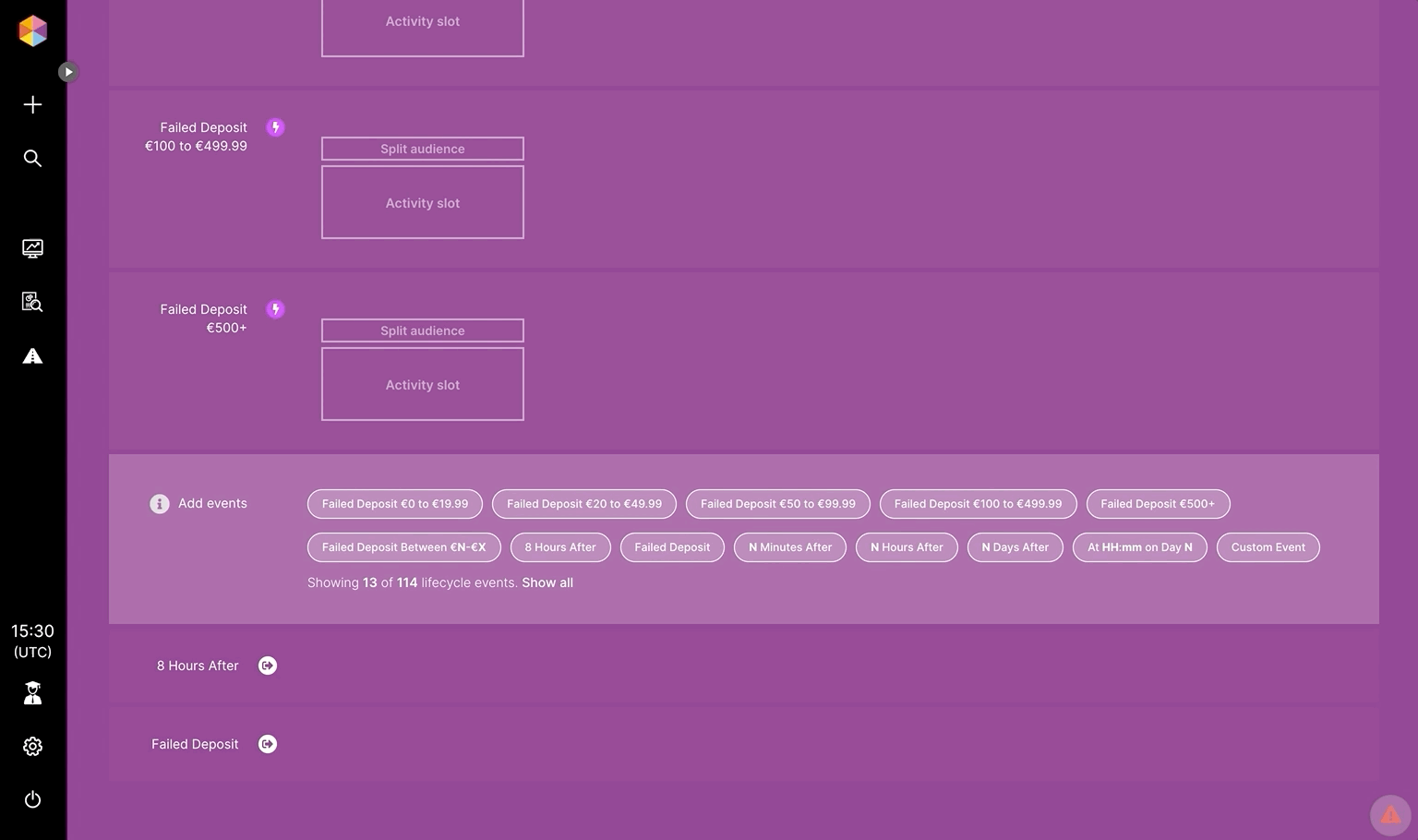 ​
During events will appear in the list in chronological order, you can drag and drop them into whichever position you like.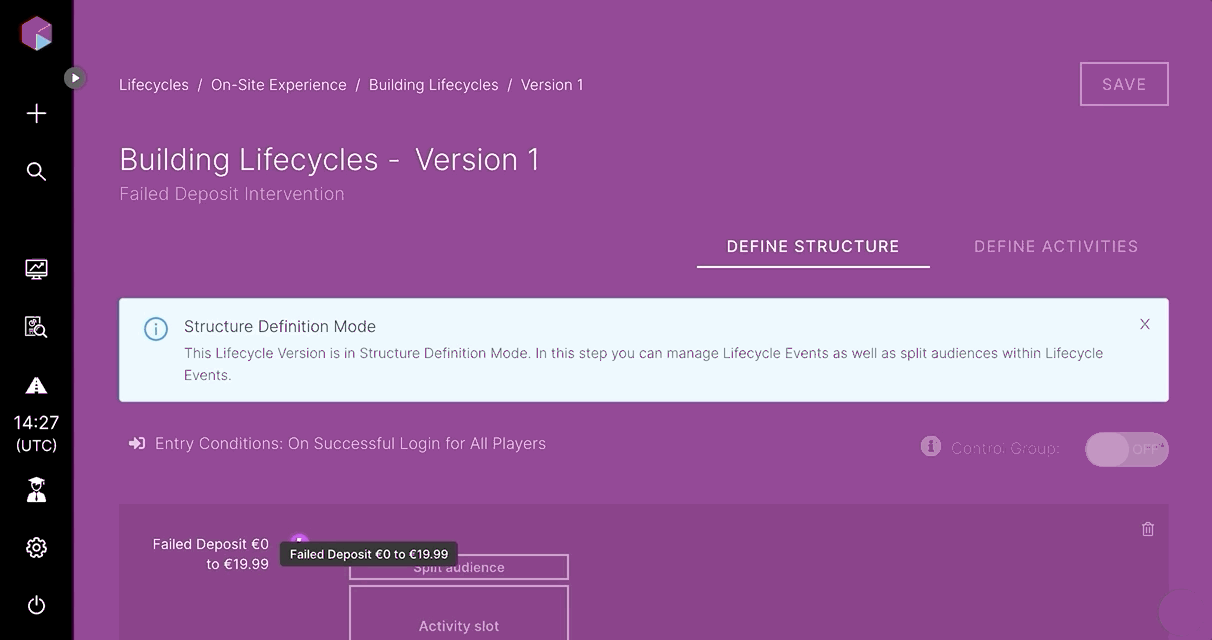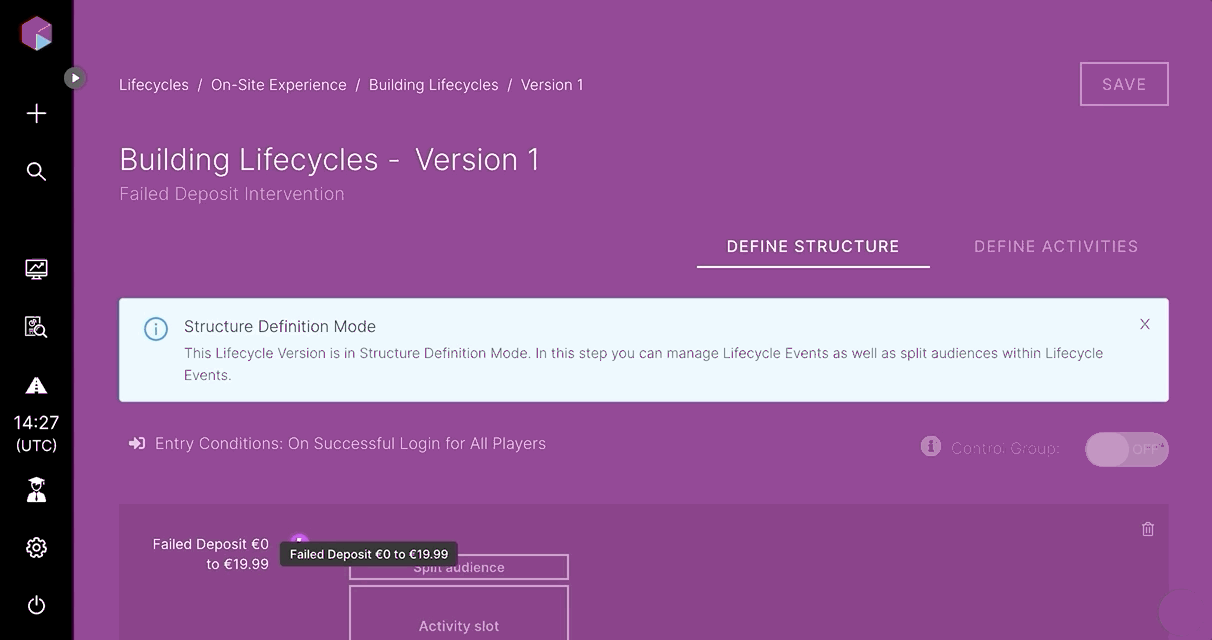 ​
🔚 Ending events
Ending events are the actions that define the ending of the lifecycle and will result in players being removed from the lifecycle.
Templates come with a pre-defined ending event but this can be removed. Or you can add an additional event so that your lifecycle has more than one ending event.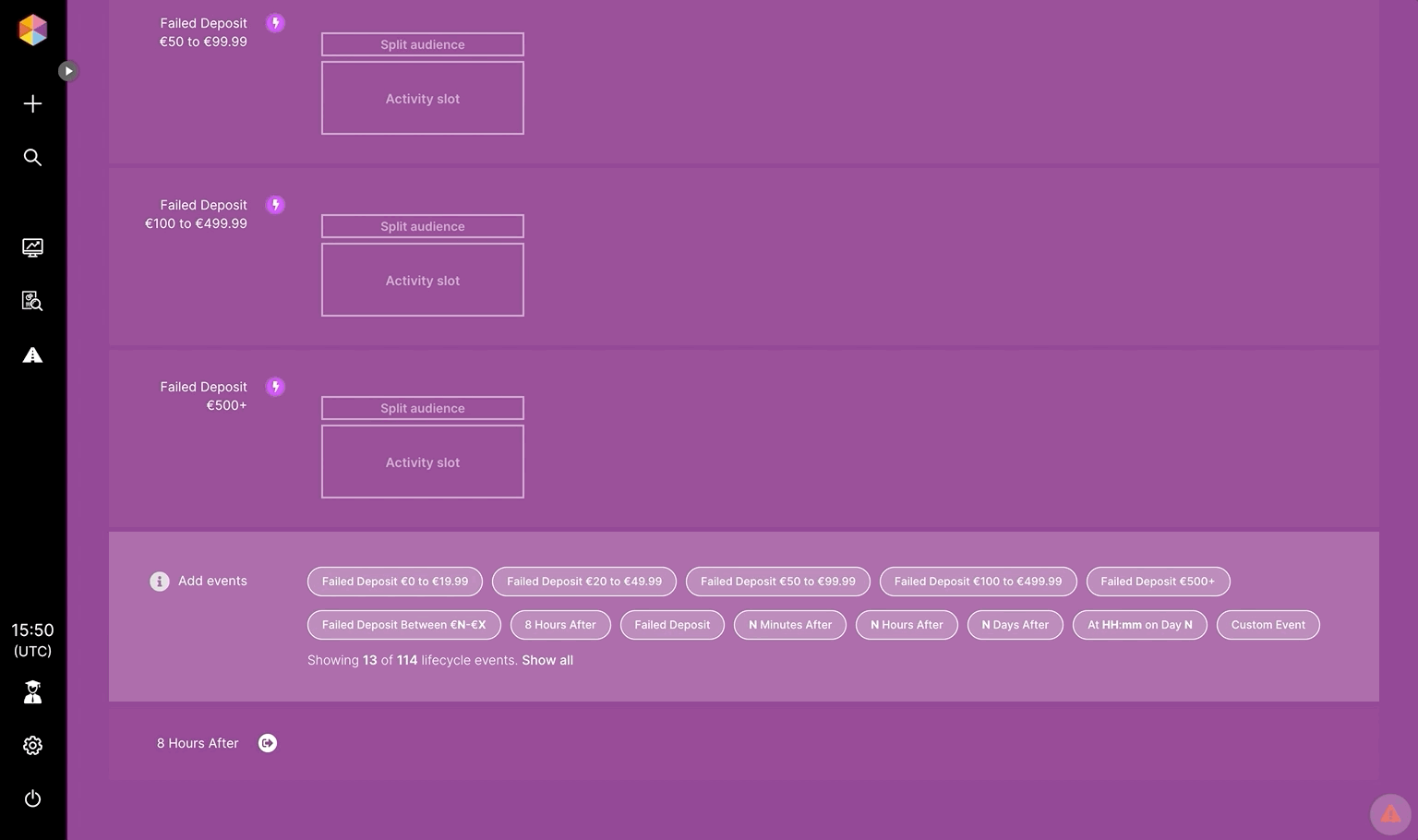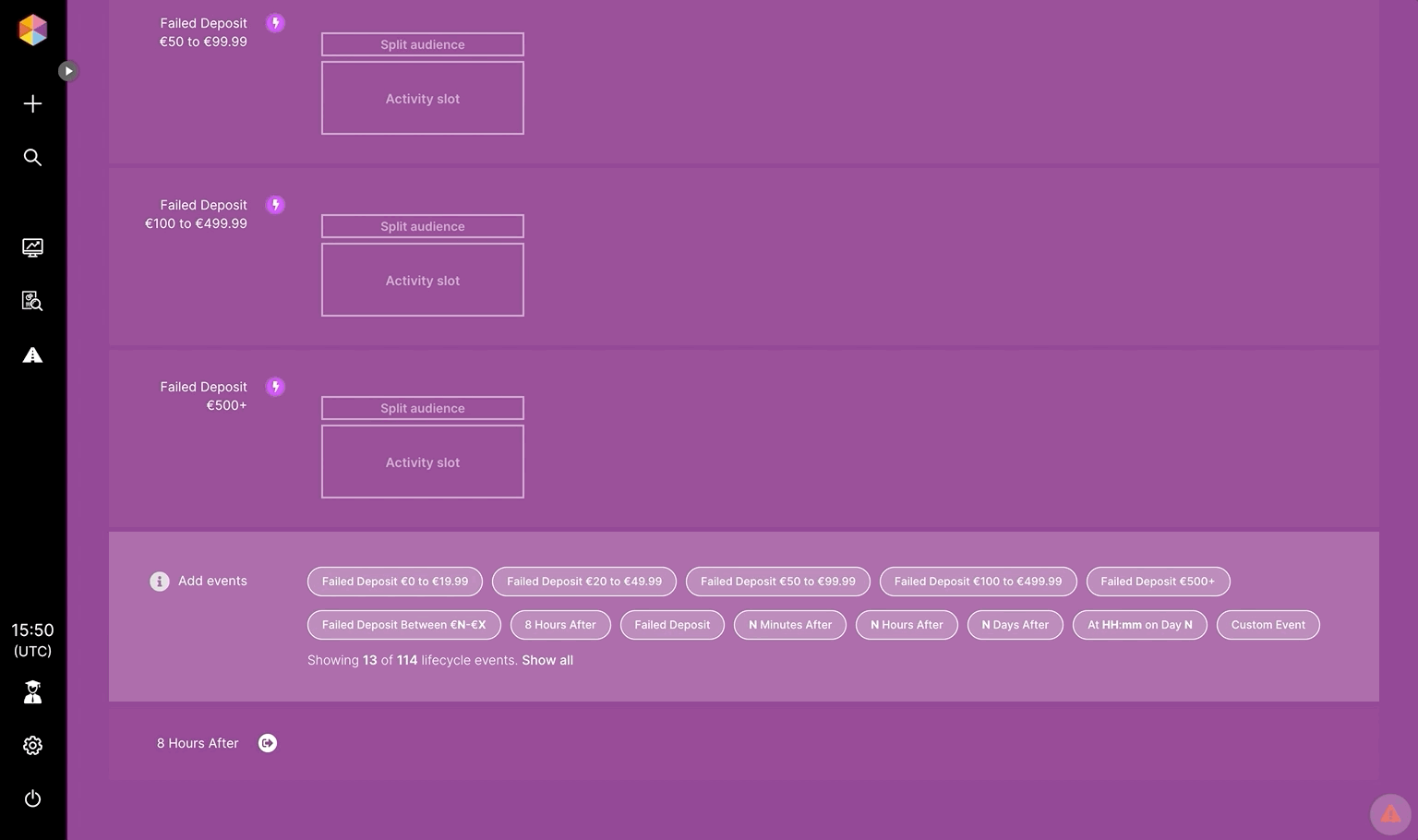 ​
🗑️

Delete Event
Remove what you don't need by selecting the trash icon. Deleted during and ending events will be removed along with any segment or actions created.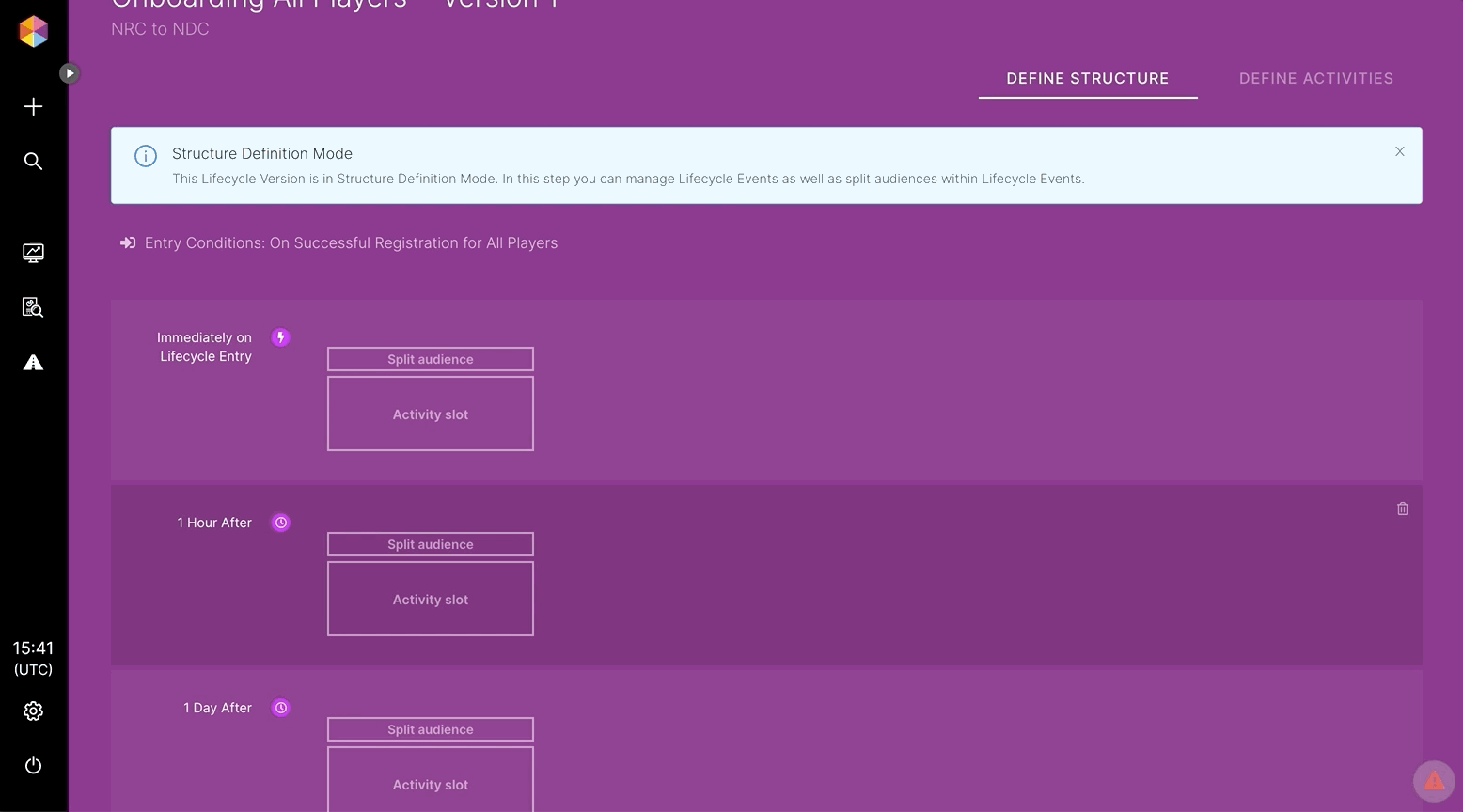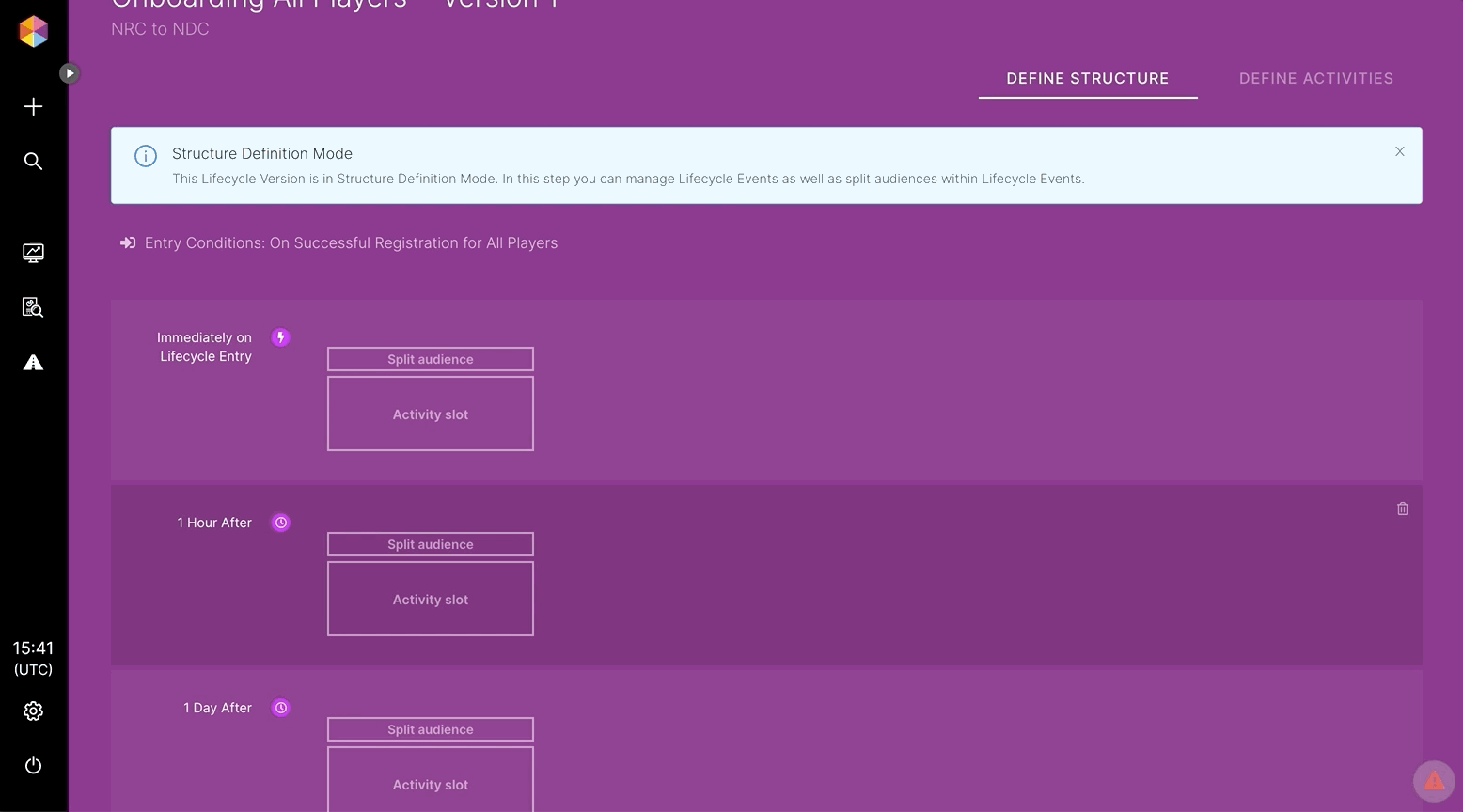 ​
👯

Split the Audience
After you have defined the structure and the number of events you want to have inside your lifecycle, next we need to split the audience to define the segment.
Splitting the audience allows you to target smaller sections of the main audience (entry segment) and to create tailored communication or action groups for each section.
Example: We have an NRC-NDC lifecycle for all players from the UK.
We can split the audience to segregate different affiliate references or acquisition sources and create unique offers and/or communication within the same lifecycle.
Create unique segments as you build your lifecycle as follows;
Split the audience

Create segment

Name and define the conditions of the segment

Save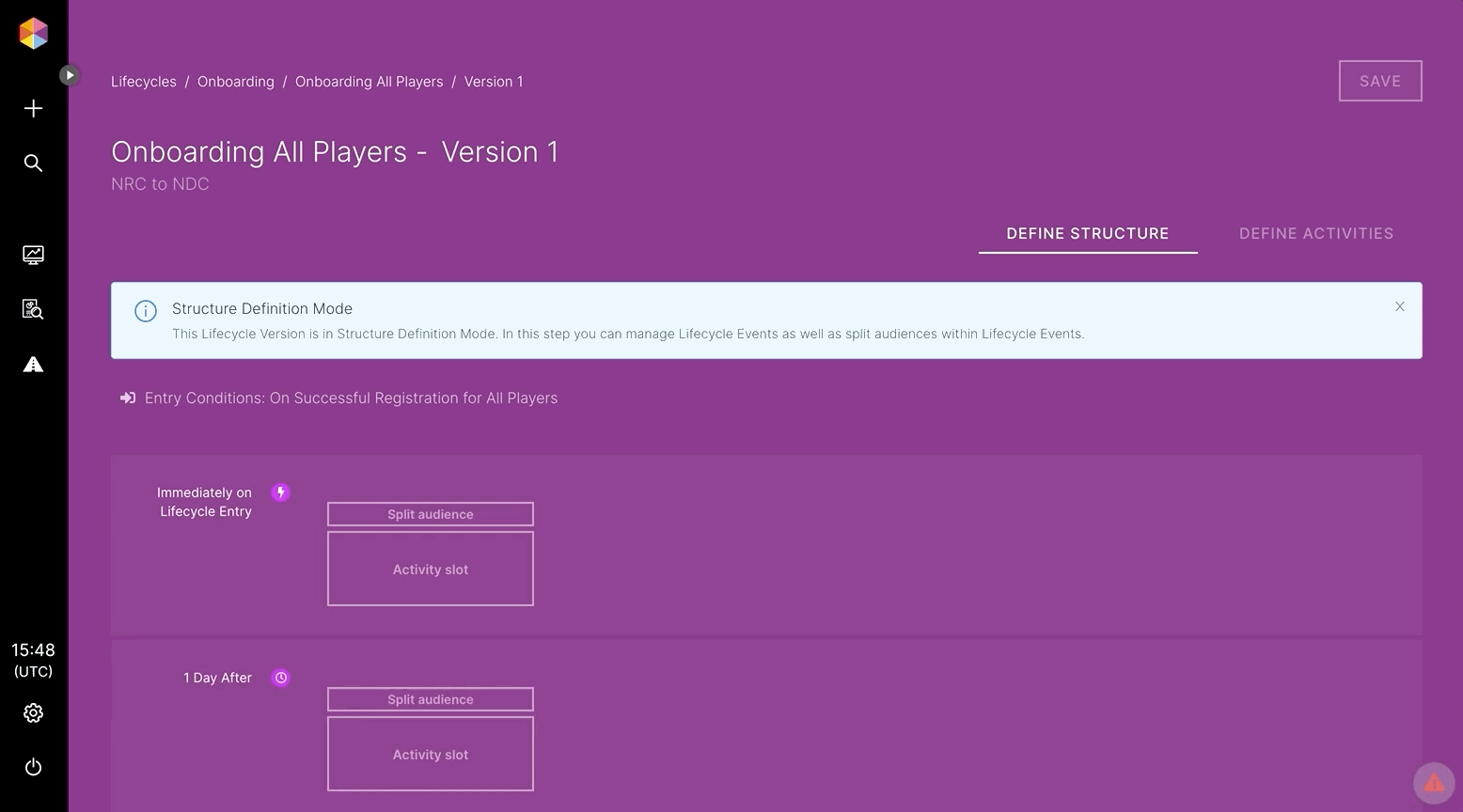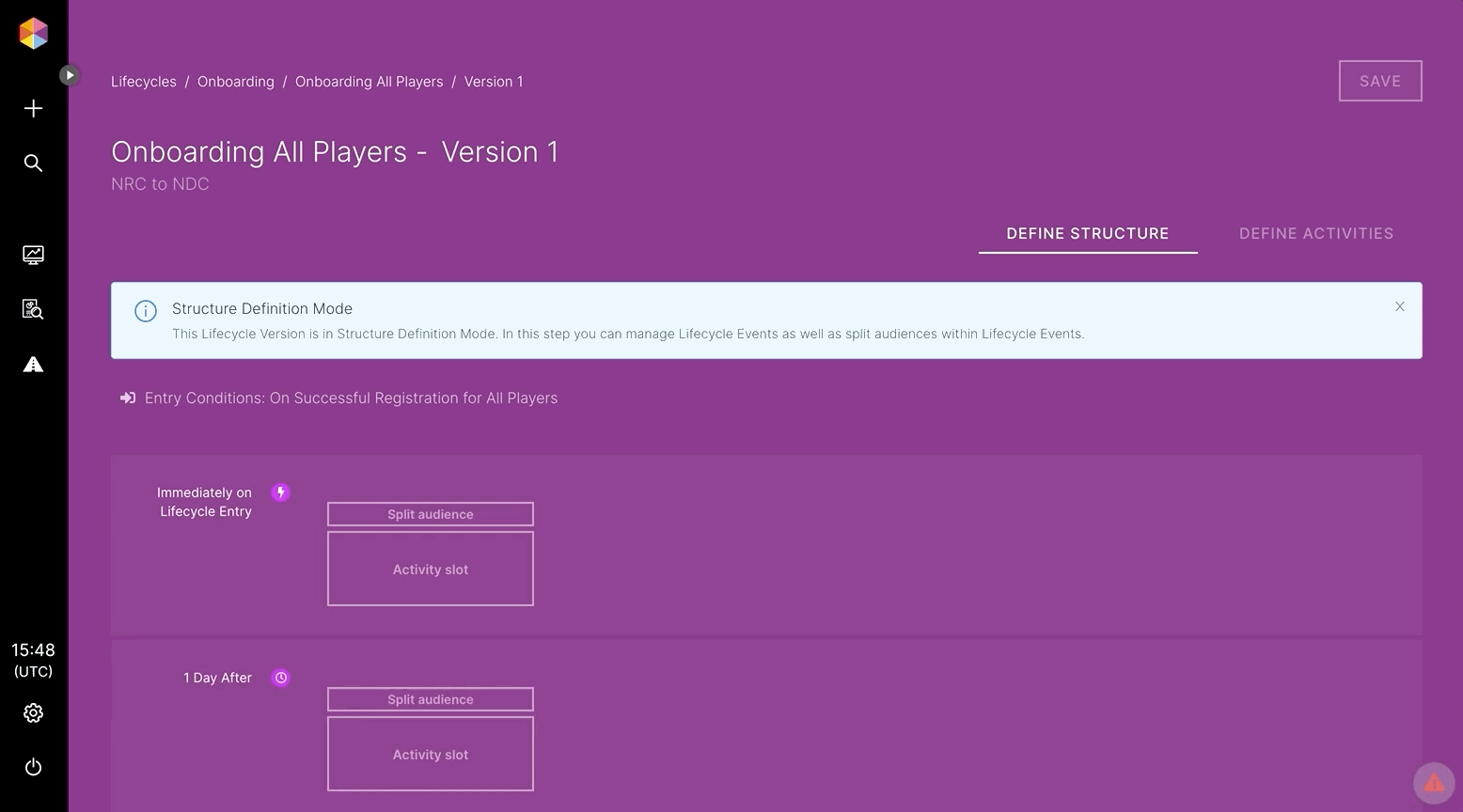 ​
Each segment in lifecycles is unique which means that you will always need to build a new segment. This way you avoid making changes in multiple places when editing a single segment. Instead, you have full control of each and every segment in your lifecycles.
​
📋 Copy & Paste Segment Structure
We've made it easy for you to copy and paste the segment structure from one event row, down to the next. Once you're happy with the audience for your first event, copy and paste that down to all the applicable events.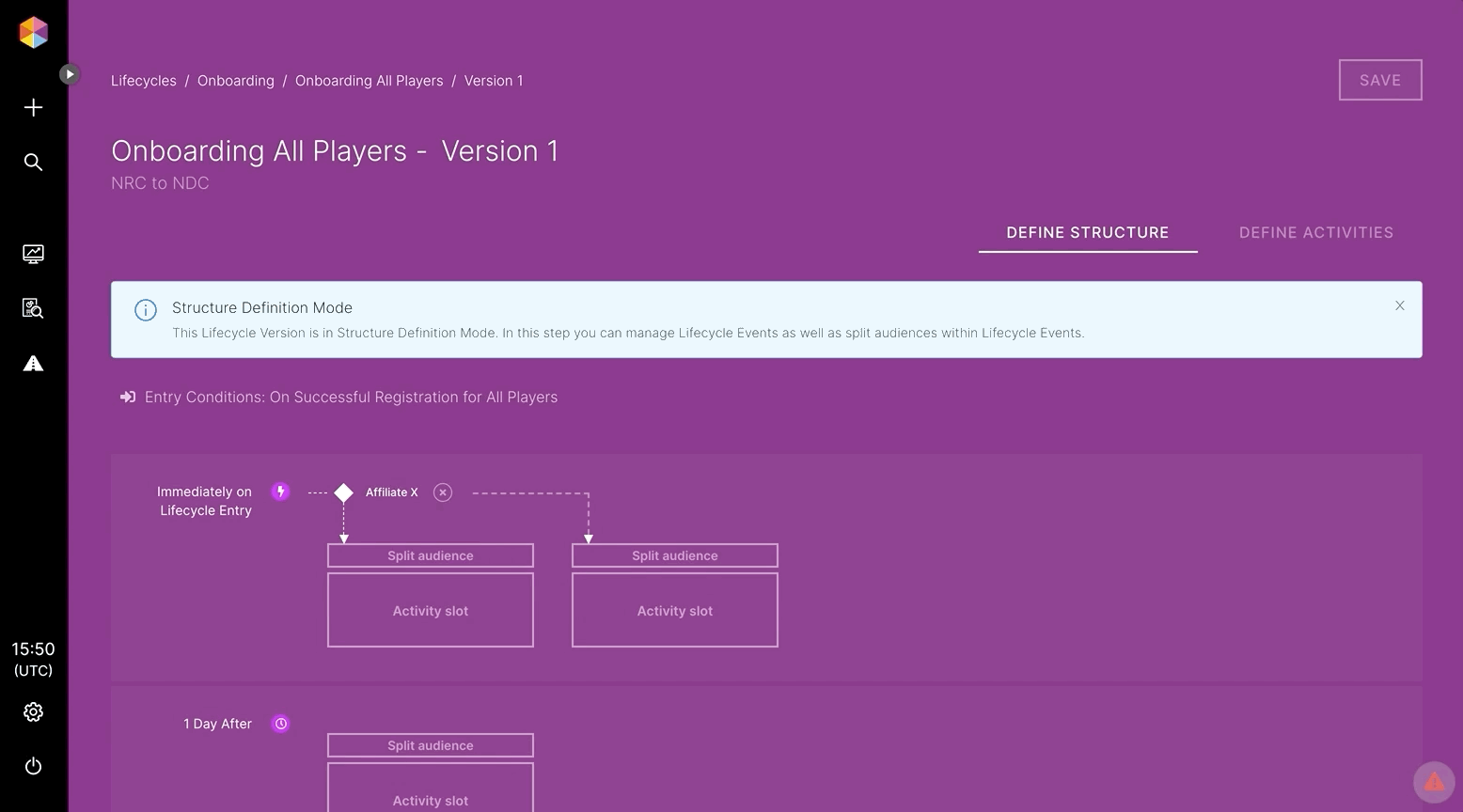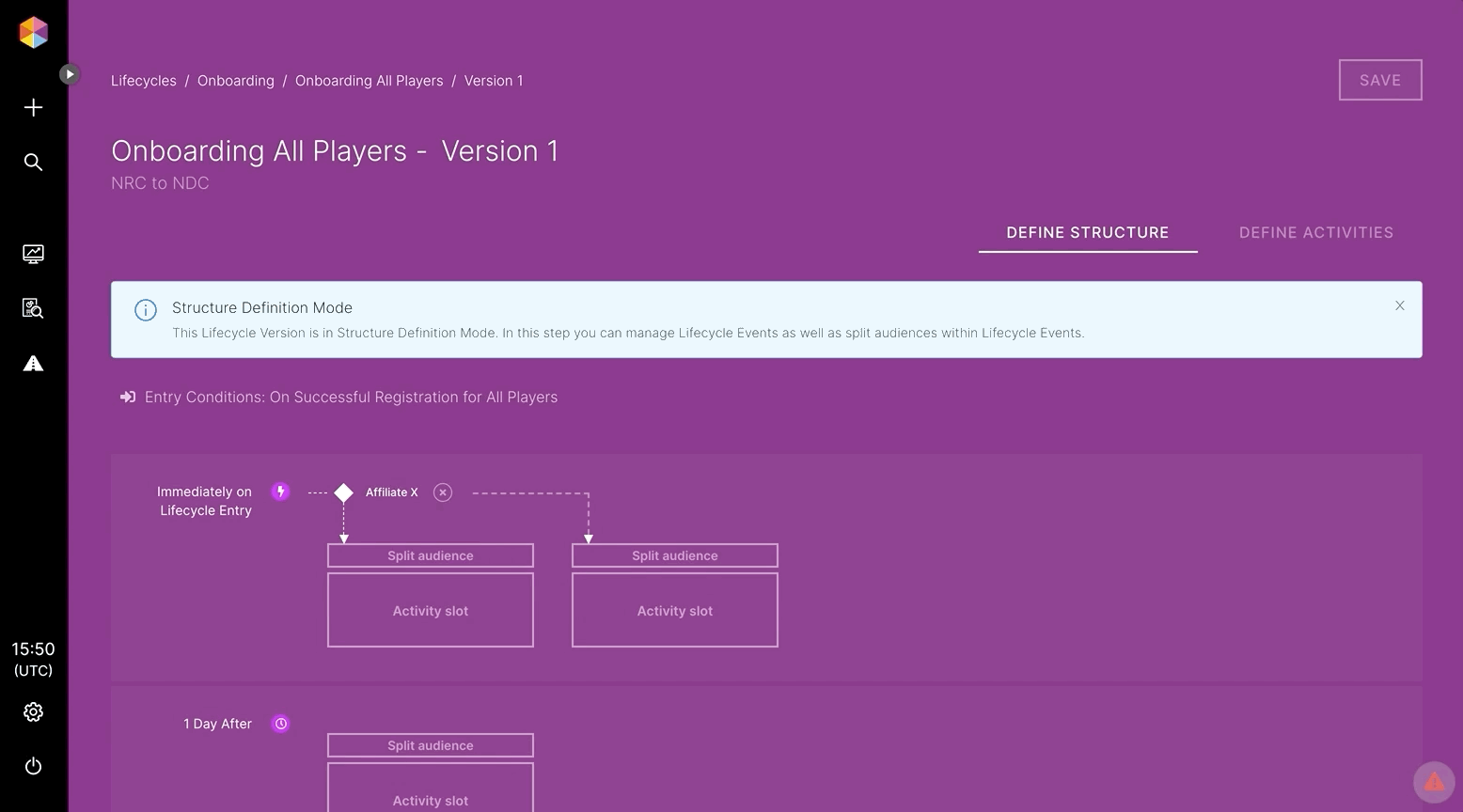 ​
Learn all you need to know about Lifecycle Segments.